A Total Restoration by DPA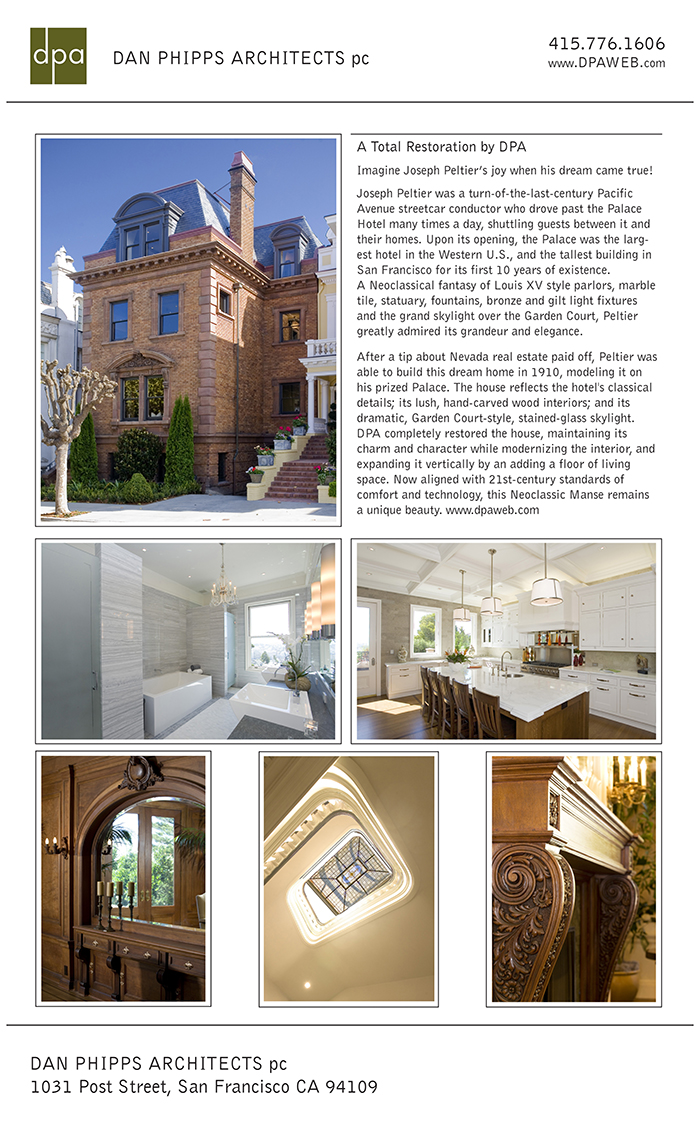 Imagine Joseph Peltier's joy when his dream came true!
Joseph Peltier was a turn-of-the-last-century Pacific Avenue streetcar conductor who drove past the Palace Hotel many times a day, shuttling guests between it and their homes. Upon its opening, the Palace was the largest hotel in the Western U.S., and the tallest building in San Francisco for its first 10 years of existence.
A Neoclassical fantasy of Louis XV style parlors, marble tile, statuary, fountains, bronze and gilt light fixtures and the grand skylight over the Garden Court, Peltier greatly admired its grandeur and elegance.
After a tip about Nevada real estate paid off, Peltier was able to build this dream home in 1910, modeling it on his prized Palace. The house reflects the hotel's classical details; its lush, hand-carved wood interiors; and its dramatic, Garden Court-style, stained-glass skylight. DPA completely restored the house, maintaining its charm and character while modernizing the interior, and expanding it vertically by an adding a floor of living space. Now aligned with 21st-century standards of comfort and technology, this Neoclassic Manse remains a unique beauty.
---
Share