Irene Yang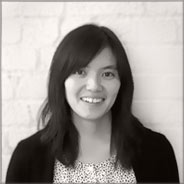 Ms. Yang joined DPA in early 2012. She earned a Bachelor of Art in Architecture from the University of California, Berkeley in 2002. Before that she enjoyed an adventurous childhood with her two younger sisters in Davis, California.
Over the course of her career she has worked on various types of projects ranging from affordable multi-family housing for Tenderloin Development Corporation and Burbank Housing to commercial projects for Gap and Gymboree. Professional travels have taken her to San Francisco's Tenderloin and Bayview districts, Santa Rosa and many locations in the East Bay. Now at DPA she has shifted her focus to custom residential work where she concentrates on design development, construction documents and construction administration. Ms. Yang has LEED Green Associate certification.
Ms. Yang lives with her husband and their spunky Cocker Bichon Poodle in San Francisco's foggy but lovely Outer Richmond District adjacent to the Golden Gate Park. In her free time, she enjoys baking cheesecakes and chocolate chip cookies, eating anything delicious especially comfort food, waitressing for her talented husband chef, photography and watercolor sketching of quotidian life.
Share