Marcia Mitchell Duys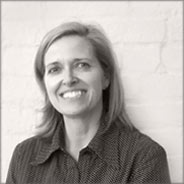 Ms. Duys has worked with DPA since June 1987. As an accomplished Project Architect, Ms. Duys is responsible for all aspects of architecture from conceptual design through construction administration. Her particular expertise is acting as liaison between clients, contractors and consultants from initial design phase through the construction process. She also has many years' experience working with clients on interior design projects.
Ms. Duys received her Bachelor of Arts from Smith College, Northampton Massachusetts in 1987. She studied architecture at L'Ecole des Beaux Arts and La Sorbonne in Paris, France in 1986. She received her license in to practice in California in 1996.
Ms. Duys' activities and involvement include: Volunteer work with her daughter's school, sailboat racing and traveling with her family. She is a Deacon at her church and is a past chairman of the San Anselmo Planning Commission, She is an avid fan of the Kansas Jayhawks basketball team and she is typically accompanied to work by her trusty companion, Molly the Cairn terrier.
Share